Twistshake Plate 6+m White White
Choose quantity:
Product is available: delivery 1-4 days
Product is not available
The new Twistshake plate series are developed to make food time a more comfortable and happy experience. The clever anti-slip bottom prevents the plate from sliding across the table. The shape is developed to fit perfectly with Twistshake's cutlery series. The smart lid conveniently transforms the plate into a lunch box for the trip, or for general storage. Two or more plates can be stacked thanks to the ingenious TWISTCLICK function.
Details
- Free from BPS, BPA and BPF - safe for your child and for yourself
- PP and TPE-plastic - manufactured from premium material
- Anti-Slip - prevents the plate from sliding over the table
- Suitable for children 6 months and up
- Dishwasher-safe - put in the upper partition
- Microwave-safe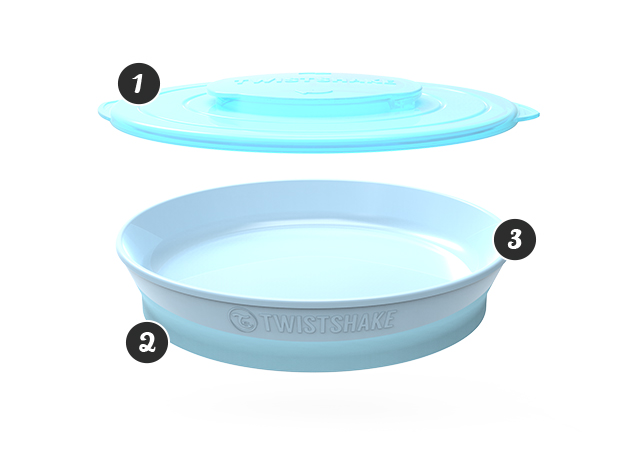 1 TWISTCLICK LID
Transform your plate into a stackable lunch box.
2 ANTI-SLIP
The bottom of the plate is manufactured from an anti-slip material that prevents it from sliding.
3 THE SHAPE
The plate is designed to fit perfectly with Twistshake's cutlery so that your child easily can scoop up the food.
4 CLICK-MAT
Twistshake Click is the perfect table mat for your plate. It creates a vacuum underneath the plate, making it almost impossible to move even for the most energetic toddler.
Model code: 227-78167
Product code:
188189
Color:
White
Transport information
Product is available within the displayed time in the current country. If the product is not in our warehouse the new shipping time will be displayed. Shipping will be longer (approximately 5-10 working days) for orders outside Estonia, Latvia and Lithuania. Shipping outside Estonia, Latvia and Lithuania will cost 20€-40€ depending from the order location. For more information please view our terms and conditions. If the product is on order, the arrival date will be displayed. In some cases arrival date can not be displayed, but the product can still be bought and reserved when it arrives. For further information please contact us.