Twistshake 2x Pacifier 0-6m Pastel Pink Purple Purple
Choose Color:
Choose size:
Choose quantity:
You save: €
2.80

(-

40

%)
Product is available: delivery 1-4 days
Product is not available
The Twistshake pacifier was developed to soothe your child with its perfectly adapted shield. The four air holes maintains the integrity of your baby's skin and prevents irritation. Twistshake's super-soft silicon pacifier is the favourite of every baby and the orthodontic shape ensures a healthy teeth-development. Twistshake's pacifiers are entirely free from BPA, BPS and BPF.
Details
- 0-6 months
- Choose from 10 dazzling colors
- Super-soft silicon
- Orthodontic teat
- The four air holes makes sure the pacifier is comfortable on your baby's skin
- Free from BPA, BPS and BPF - safe for both you and your child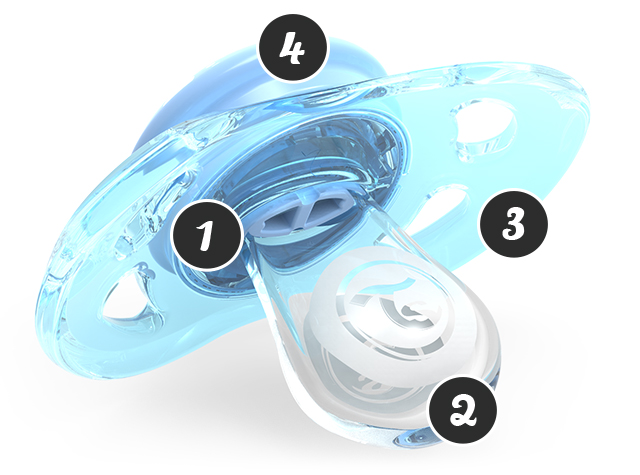 1 TWISTSHAKE TEAT
The teat is specifically developed to suit your child.
2 SUPER-SOFT SILICON
Carefully chosen silicon, mild and comfortable for your baby.
3 ADAPTED SHIELD
Maintains skin integrity thanks to its four, large air holes and perfectly adjusted shape.
4 EASY TO USE
Perfectly designed body, easy to grip and hold.
Model code: 227-78286
Product code:
188273
Color:
Purple
Transport information
Product is available within the displayed time in the current country. If the product is not in our warehouse the new shipping time will be displayed. Shipping will be longer (approximately 5-10 working days) for orders outside Estonia, Latvia and Lithuania. Shipping outside Estonia, Latvia and Lithuania will cost 20€-40€ depending from the order location. For more information please view our terms and conditions. If the product is on order, the arrival date will be displayed. In some cases arrival date can not be displayed, but the product can still be bought and reserved when it arrives. For further information please contact us.