Twistshake Divided Plate 6+m Pastel Purple Purple
Choose Color:
Choose size:
Choose quantity:
You save: €
2.40

(-

20

%)
(Product)PRODUCT is in stock
Product is not available
The new Twistshake plate series are developed to make food time a more comfortable and happy experience. The clever anti-slip bottom prevents the plate from sliding across the table. The shape is developed to fit perfectly with Twistshake's cutlery series. The smart lid conveniently transforms the plate into a lunch box for the trip, or for general storage. Two or more plates can be stacked thanks to the ingenious TWISTCLICK function.
Details
- Free from BPS, BPA and BPF - safe for your child and for yourself
- PP and TPE-plastic - manufactured from premium material
- Anti-Slip - prevents the plate from sliding over the table
- Suitable for children 6 months and up
- Dishwasher-safe - put in the upper partition
- Microwave-safe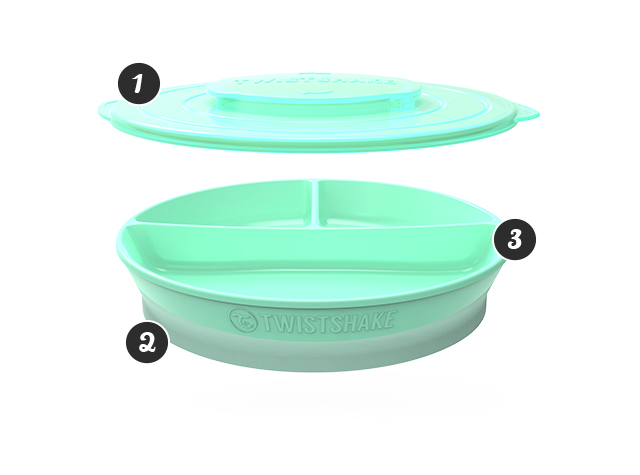 1 TWISTCLICK LID
Transform your plate into a stackable lunch box
2 ANTI-SLIP
The bottom of the plate is manufactured from an anti-slip material that prevents it from sliding.
3 THE SHAPE
The plate is designed to fit perfectly with Twistshake's cutlery so that your child easily can scoop up the food.
4 CLICK-MAT
Twistshake Click is the perfect table mat for your plate. It creates a vacuum underneath the plate, making it almost impossible to move even for the most energetic toddler.
Model code: 227-78172
Product code:
188194
Color:
Purple
Transport information
The estimated delivery time depends on the transport method chosen by the customer. If the item is out of stock, please contact our customer service regarding availability!